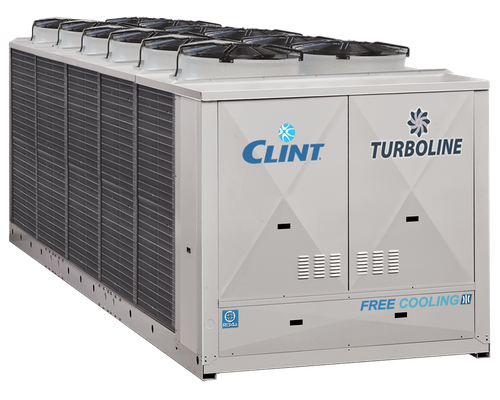 CHA/TTY/FC 1301-1÷5004-2
AIRCOOLED LIQUID CHILLERS FREE-COOLING WITH AXIAL FANS, TURBOCOR (MAGNETIC LEVITATION) COMPRESSORS AND FLOODED SHELL AND TUBE EXCHANGER.


The innovative CHA/TTY/FC 1301-1÷5004-2 units, with R134a refrigerant and FREE-COOLING technology, are designed to provide an effective solution to installation requirements of large areas, both commercial and industrial, where the production of chilled water is required in continuous service throughout the year. The unit, designed with specific attention to every aspect of construction and combined with the use of TURBOCOR dynamic partialization oil-free magnetic levitation compressors - managed by the TURBOSOFT self-adaptive electronic control - and with the use of flooded shell and tube evaporator, achieves a high rate of energy efficiency, with unequalled SEPR values, with minimum water content, and an excellent silent functioning. Depending on outside air temperature, the microprocessor controller manages the functioning in CHILLER, FREE-COOLING or MIXED (both CHILLER and FREE-COOLING) mode. The units are also equipped with a WEB MONITORING system for the monitoring and remote management of the units through the communication protocol GPRS/EDGE/3G/TCP-IP. Users enabled to the use of this service can, by a dedicated Web page, have access to the Monitoring, Managing and Statistics activities.
Are available as option the new EC Inverter fans with high available static pressure and efficiency.
The units are compliant to the 2021 ErP Regulation for process cooling application.
On request, units can be supplied with R513A refrigerant.
Versions
CHA/TTY/FC - Cooling only
Features
Self-supporting galvanized steel frame protected with additional protection achieved via polyester powder painting.
Semi-hermetic centrifugal compressors with dual Turbocor turbine, oil free, magnetic rising rotor, thermal protection, continuous capacity adjustment system thanks to built-in INVERTER, automatic anti-cavitation system. The power circuit of the compressor is fitted with a set of electrolytic condensers to control the rising in the event of a power failure, reactor for the power factor correction, EMI filter for electromagnetic compatibility.
Axial fans directly coupled to an electric motor with external rotor.
Condenser made of copper tubes and aluminium finned coils combined with FREE-COOLING coils.
High efficiency flooded shell and tube type evaporator, with one or two independent circuits on the refrigerant side and one on the water side, complete with water differential pressure switch.
Cooling circuit shut-off valves on suction, discharge and liquid line.
Electronic expansion valve.
Electronic high and low pressure gauges.
R134a refrigerant. On request R513A refrigerant.
Electrical board includes: main on-off switch with door lock, fuses, electronic/digital overload device to protect the compressors and thermocontacts for fans, interface relay and terminals for external connections.
Condensing Control is included: electronic proportional device that ensures efficient and continuous functioning of the unit with outside air temperature down to –20 °C. It also allows to reduce the sound level especially at night. It consists of a fans speed controller with continuous speed regulation, high and low pressure transducers on cooling circuit and an electrical heater on electrical board.
TURBOSOFT control and regulation system is fitted with RS485 serial interface and Web Monitoring device for remote monitoring via GPRS/EDGE/3G/TCP-IP network.
Electronic high and low pressure gauges.