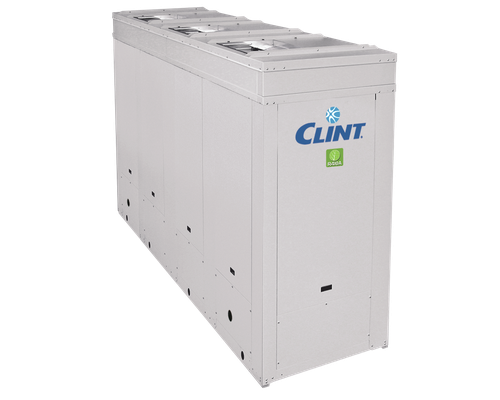 MRA/K 182÷604
AIRCOOLED CONDENSING UNITS AND REVERSIBLE CONDENSING UNITS WITH RADIAL FANS AND SCROLL COMPRESSORS.

The indoor condensing units and reversible condensing units of the MRA/K 182÷604 series, with R410A refrigerant, are designed to satisfy the needs of medium-sized domestic or industrial systems with particular difficulty in positioning units outside the building.
These units are combined with evaporators in split system air conditioning installations, allowing the rooms to be cooled and dehumidified or to be heated. They can also be used in combination with hydronic evaporating units in both air conditioning and industrial process cooling applications
They are equipped with Scroll compressors and radial fans even in a high ESP version, and they enable immediate and efficient use thanks to particular technical and design adjustments.
A wide range of accessories, factory fitted or supplied separately, completes the outstanding versatility and functionality of the series.
Versions
MRA/K - Cooling only
MRA/K/AP - Cooling only with high ESP fans
MRA/K/WP - Reversible Heat Pump
MRA/K/WP/AP - Reversible Heat Pump with high ESP fans
Power range
50.6-188 kW
14.0-53.0 Ton
Features
Self-supporting galvanized steel frame protected with additional protection achieved via polyester powder painting.
Scroll compressors with oil sight glass, internal overheat protection and crankcase heater.
Radial fans coupled to 3-phase motors by V belt and variable pulley.
Condenser made of copper tubes and aluminium finned coil.
R410A refrigerant.
Electrical board includes: main switch with door safety interlock, fuses, thermal protection relays for compressors and thermocontacts for fans.
Microprocessor control and regulation system.